Welcome! Use the pull-down menu to find information about my research, teaching and writing on language brokering, Cultural Modeling, pedagogies of heart and mind,  immigrant youth and families, and gender/literacy and power.  You will find links to public blogposts, academic papers, course syllabi and more. I invite you to leave comments: your reactions to my work, sharing of your own work, and dialogue with other readers.
On this page you'll find my reconstituted blog (see Lessons on Impermanence), which offers reflections on these issues, and the themes of language, learning and love.  I have been thinking about these matters of heart and mind in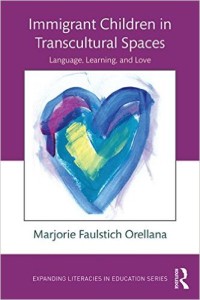 different ways since 1983: first as a classroom teacher, then as a researcher of language and literacy in immigrant communities and a designer of pedagogies, and always as a learner myself. Topics will include:
Reflections from my ongoing research on language and literacy practices in immigrant communities, both in and out of school
The "pedagogy of heart and mind" that we cultivate in an after-school program I direct in downtown Los Angeles (called "B-Club"), where Teacher Education students, and K-5 kids come together to learn while playing and play with learning  (See also my 2016 book: Immigrant Children in Transcultural Spaces: Language, Learning and Love)
Issues facing immigrant communities more broadly, especially the lack of love (and often direct hatred) that is directed against them.
Other random lessons from the grand School of Life.
For those who followed the blog that I began in June, 2015, please note that I was forced to restart in March 2016. I'll be reviving the old blog posts in some form, but mostly learning from the past and moving onward, as is the way of Life.